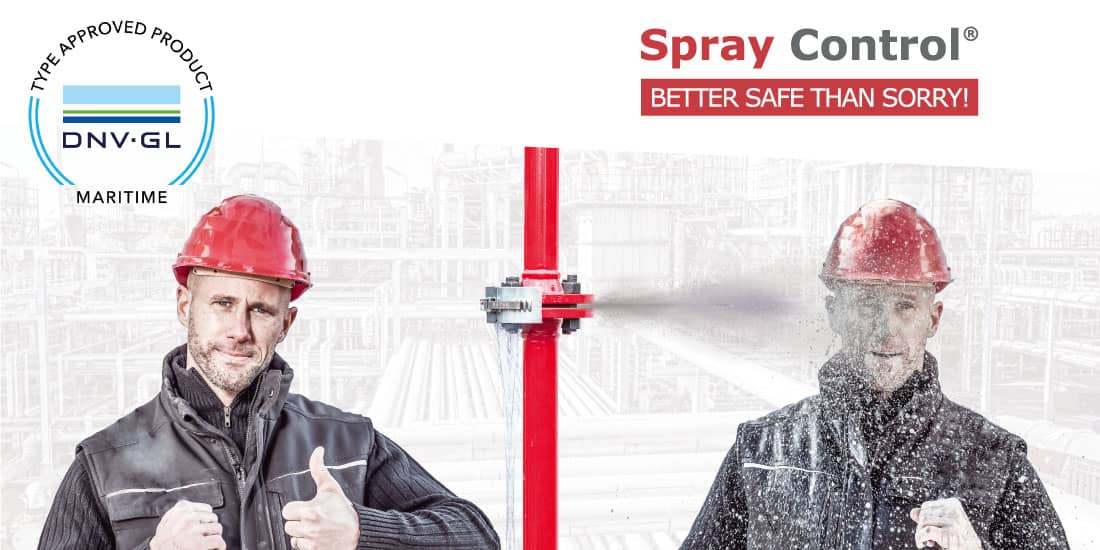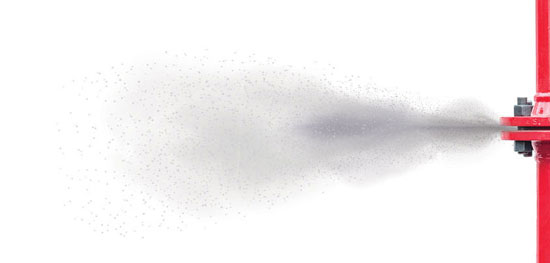 The risk of a sudden gasket rupture in a flange connection is a constant threat to people, equipment, and environment.
We deliver the solution: SPRAY CONTROL,
the best protection against hazardous spray-outs,
the most advanced technology!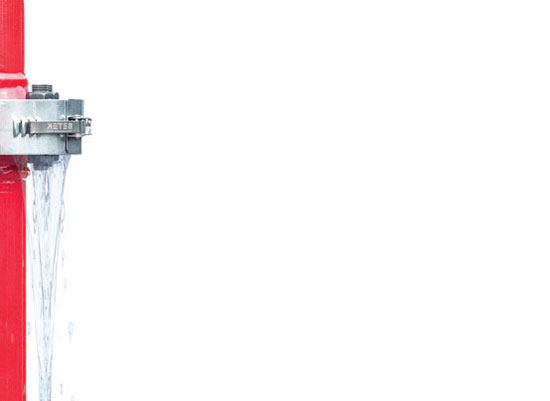 SPRAY CONTROL as flangeguard gurantees safety regardless of which flange type and size the SPRAY CONTROL protection ring is mounted on.
For covers, manholes and connections with or without gap.
SPRAY CONTROL is available for all current sizes in DIN and ANSI. Request a free quotation for your specific requirements without obligations, including special sizes and / or small order quantities.
SPRAY CONTROL as flangeguard ( also known as flange cover or spray shield ) is resistant against most aggressive, toxic, hot or cold products, as well as UV-radiation.
SPRAY CONTROL, better safe than sorry!
Our flange guard "Spray Control" in a simulation on a defective flange connection with up to 300 bar
Various sizes and shapes have been tested, each one with 100, 200 and 300 bar, at each pressure over 10 minutes.
On each test the same result:
Our flange guard have no signs of wear or deformation, nor any defect.
We have tested our flange guard Spray Control in a simulation in the renowned environmental simulation laboratory TREO, in Hamburg.
Bei einem Dichtungsversagen an Flanschverbindungen können zum Teil kräftige oder auch fein verwirbelnde Sprays entstehen, die weitflächig in der Anlage verteilt werden können. Um das dadurch entstehende Verletzungsrisiko für das Bedienungspersonal zu vermeiden, werden die Spritzschutz-Manschetten Spray Control eingesetzt.
Entscheider-Facts
beständig gegen Öle und Chemikalien

versprödet nicht

bis 400 °C einsetzbar
Spritzschutz hat die Aufgabe im Fall einer Leckage den austretenden Strahl unmittelbar zu entspannen und drucklos abzuleiten, vor allem wenn es sich um reizende oder ätzende, giftige, heiße oder brennbare Medien handelt. Spritzschutz darf jedoch niemals den Flansch abdichten, da sonst ein unzulässiger, unkontrollierter Druckaufbau stattfindet, der erneut zu einem Versprühen führen würde. Für diese Aufgabe hat sich das Spritzschutzsystem Spray Control von Betek bewährt. Gefertigt aus Edelstahl
WSt.Nr
. 1.4404 (ASTM 316), ist die Manschette beständig gegen Öle und Chemikalien, versprödet im Gegensatz zu Kunststoff-Manschetten nicht und kann bis 400°C eingesetzt werden. Ein innenliegendes Netz dekomprimiert das austretende Spray sofort. Das Medium tropft ohne seitliche Umlenkungen nach unten ab, auch hohe Drücke (z.B. Dampf) werden sofort abgebaut. Das eingearbeitete Netz sichert die Manschette gegen Verrutschen und passt sich dem Spalt zwischen den Flanschen an. Die Manschette kann auch an Flanschen ohne Dichtspalt eingesetzt werden. Der Spritzschutz kann durch seinen Bügelverschluss schnell und sicher montiert werden. Das Spritzschutzsystem ist laut Hersteller für runde Flansche in allen Nennweiten für DIN und ANSI lieferbar. Für andere Durchmesser, viereckige und ovale Flansche wird die Manschette nach Anforderung des Bestellers gefertigt. Standardbreiten sind 50, 70 und 90 mm.
Unser Artikel in der Chemietechnik
Some of our clients